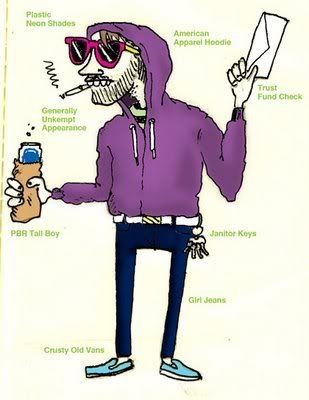 I'm guilty of a few.
1-Crusty Old Vans.
Only because they are comfortable. If I'm wearing my Jordans, then I need to be careful so they don't get stepped on. I don't like that whole " Try-to-wear-an- outfit-better-than-the-person-standing-next-to-you-crowd."
2-Janitor Keys.
Two house and two car. Where else am I going to keep them? 1 in each pocket?
I could try to bring back the Fanny pack. Oh, I also keep a box cutter linked with my keys. It frequently gets me in trouble with Metal Detectors. "Oh, yeah. I need to cut up the boxes of COKE that I'm bringing in, Officer. "
3-Generally Unkempt Appearance.
I like having a beard! I've had facial hair since 6th grade. You can tell I'm comfortable when I have a scruffy beard. It goes along with my "Broke Poet" look.
You know its the broke people that have the most heart. And by the way, NEVER give spare change to a homeless man with no beard.
4-Girls Jeans
My Levi's ARE NOT girls. So I don't know if this one counts. Thats just how 501's come. I don't sag my pants, however. I stopped doing that in 8th grade.